Become a hybrid cloud expert!
Duration: 7 months, including 60 days of classes and 80 days of on the job training.
Start date: 14.12.2021
Application period: 13.10-29.11.2021
Address: Linnoitustie 3, 02600 Espoo, 4. krs
Note: the contact teaching period will be taught either in the classroom or online depending on the current situation.
Description of the training
Practical training module of Cloud Experts that aims for employment is executed as project based learning. The training gives a solid base for understanding how cloud services are utilized in implementation of services. The training is divided into three core themes: Azure, AWS and Google Cloud. Additionally, the themes of cyber security and DevOps will be touched upon.

During the training you have the possibility to accomplish up to 2 well-recognized certificates according to your choice (Azure, AWS or Google Cloud).
A comprehensive 60-day intensive training module gives a robust base on having the skillset required in recruitment for the partner companies. You will get up-to-date knowledge on the current and most common cloud services utilized as a part of the companies' server architecture.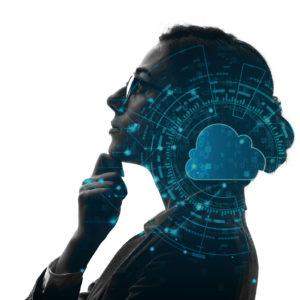 The aim of this training module is to give up-to-date knowledge and skills for trainees who already have experience in cloud services. Additionally, we aim for helping recent graduates to start their career within their own field. After the training, you have a solid set of skills required in working as a cloud service expert.
Teaching is in Finnish and the teaching materials are in English.
The target audience
The target audience for this training module are customers of TE Services who want to work in the industry while having the motivation to update or develop their pre-existing skills in cloud services. A formal training and / or previous experience in system maintenance and management is considered as an asset.
Successful applicants showcase a strong desire towards developing their skills and knowledge. The partner companies are looking for candidates who see themselves as cloud service experts in the near future.
The partner companies value knowledge gained through trainees' own projects and hobbies in addition to formal education and work experience. Do not hesitate to apply!
Content of the training
The training is divided into three core themes: Azure, AWS and Google Cloud. Each theme is learned from the basics.

Additionally, we provide modules on cyber security and DevOps.
1. Module: Azure
2. Module: AWS
3. Module: Google Cloud
In this module, we introduce ourselves to the usage, features and services of Google Cloud Platform. Google Cloud provides crisp solutions to complex needs regarding storage space, analytics, Big Data, machine learning and app development.
On the Job training

The skills learned during the contact training are put to the test during the practical training.
The trainee can contact the teachers for support during the practical training.
Interested? Send your question about the training to:
Jyrki Hovivuori
jyrki.hovivuori@opiframe.com
044 3388534
Jyrki Nieminen
jyrki.nieminen@opiframe.com


In cooperation